Financial Advisor Finding Multitude of Ways to Help Clients Give Back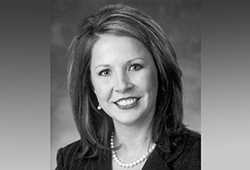 Blanchard, Oklahoma, native and Oklahoma State University graduate Candace R. Hobbs has been a financial advisor with Edward Jones for a little more than 10 years. In that time, she has earned her certified financial planner (CFP®) and accredited asset management specialist (AAMS®) certifications.

With an office in Edmond, Candace has also been honored by her firm nationally. In 2014, she was awarded their "Spirit of Caring" award designed to recognize financial advisors who exemplify the values, culture and spirit of giving back. She was one of only 226 advisors to be honored out of the firm's more than 13,000 advisors.

In the last decade, Candace has brought many clients to the Oklahoma City Community Foundation, and she still remembers her first introduction. She had a charitably-minded client with appreciated stock who was looking at options that could produce a tax deduction. That particular client elected to gift appreciated stock in order to establish a charitable gift annuity in exchange for a current charitable tax deduction and a lifetime income stream. When the contract expires, the remaining balance in the annuity will support their charitable intentions.

In another case, Candace had been working with a charitable organization's accountant and realized the organization could greatly benefit from working with the Oklahoma City Community Foundation. She helped with the introductions and the charity established an endowment fund to take advantage of all the services offered to organizations partnering with the foundation.

Recently, Candace had another client looking for ways to reduce their tax liability after selling their business. The couple wanted to establish scholarships, but they weren't sure of the specifics and she knew that they were a perfect fit for the Oklahoma City Community Foundation.

When asked about the importance of working with the Oklahoma City Community Foundation, Candace said, "It's a great way for charitable clients to go about giving. You can depend on the foundation staying true to the client's original intent and there are a lot of eyes looking at what is happening. The staff really works with and listens to the clients."

Candace added, "The convenience and the services that the Oklahoma City Community Foundation offers is unparalleled. The organization is a true asset to our community."

Our staff works closely with professional advisors just like Candace to help facilitate their clients' charitable giving. Our staff can help you build a plan that will provide your clients maximum tax advantages and meet their charitable and financial needs. Learn more about our gift and estate planning services we offer here. You may also contact Joe Carter at [email protected] or 405/606-2914.