How a Financial Advisor is Working to Give Back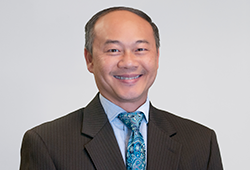 With bachelor's degrees in economics and chemical engineering and a master's in biomedical engineering, Sang V. Tran isn't your typical financial advisor. The first years out of college he worked at a major corporation in various positions including as a product developer and marketer. He also holds two patents for products that are still in use.

In 2002, Sang and his family moved to Oklahoma City and he became a professional advisor with Edward Jones. His career change came after realizing that many refugees from Vietnam including his family didn't understand finances and he wanted to help the Vietnamese community. However, after working in the industry he came to understand that the entire community could use a financial advisor to help guide and advise them on financial matters.

Early in his career, Sang was introduced to Joe Carter and the Oklahoma City Community Foundation and he has since incorporated the "cause" discussion with clients.

"I believe that my job is to help my clients achieve their life-long dreams, whether it be retirement, putting their children or grandchildren through college, making sure their love ones are taken care of should something happen to them or helping a 'cause' in the community," says Sang. "That's why, aside from discussing with my clients about their own needs, I have always incorporated the Oklahoma City Community Foundation into my clients' planning discussion."

Sang has brought numerous clients to the Oklahoma City Community Foundation. Recently, he had a philanthropic client with a substantial capital gains liability after selling a business. The couple established a legacy fund at the Oklahoma City Community Foundation and was able to save a significant amount in tax liabilities while also giving back to the causes they cared about.

"The Oklahoma City Community Foundation is such an unbelievable resource to the community," says Sang. "Not only does it exist to help families fulfill their legacies, but it also exists to help individuals and organizations in the community achieve their dreams."

Sang added, "Joe Carter and the staff are wonderful to work with. They take so much care and pride in helping the families and community. Whenever I come across a situation where a client is considering a legacy or an individual or an organization that needs funding, I think of the Oklahoma City Community Foundation."

We offer three types of advised funds that can be established with cash or other assets. Our advised fund options include two permanent endowments that benefit from the performance of our pooled investments and one that is a completely spendable fund. Learn more about our advised fundshere. Contact Joe Carter at [email protected] or at 405/606-2914 if you have any questions.