A Professional Advisor's Best Tool for Helping Charitable Clients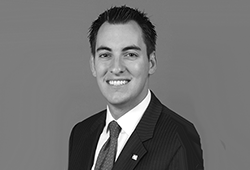 Financial advisor Jesse Bain started with Edward Jones Investments as an intern in college and has served numerous roles with the company over the past 12 years. In 2005, he took over the operations of the office in Purcell, Okla. He also serves as a nonpublic arbitrator for the Financial Industry Regulatory Authority.

A highly regarded recommendation started Bain's association with the Oklahoma City Community Foundation and for a decade he's worked with us to help his clients achieve their charitable giving goals.

Most recently, the Oklahoma City Community Foundation assisted one of his clients with setting up a charitable gift annuity (CGA) to help her leverage her charitable gifting and take advantage of the tax benefits that accompany that strategy. The client's CGA will establish a legacy fund which will support her church.

"There is not a better organization or group of people in our region for helping the charitably-inclined individual, "Bain says. "The strategies and solutions available through the Oklahoma City Community Foundation that have helped my clients have proven to be irreplaceable."

Bain added that the Oklahoma City Community Foundation is the single best tool that he has found as a financial advisor to help his clients extend their legacy of charitable giving while also taking advantage of current tax laws and benefits.
We offer six CGA options and can help your clients establish a CGA through a gift of cash or other assets, guaranteeing a set income for life. At the end of the annuity, the remaining assets will go to the charitable funds of their choice. For a calculation of how a CGA might benefit your clients, visit our online deduction calculator and review the schedule of gift annuity rates . Contact Joe Carter at [email protected] or 405/606-2914 for more information on how we can help you help your clients.