Sunday September 20, 2020
Washington News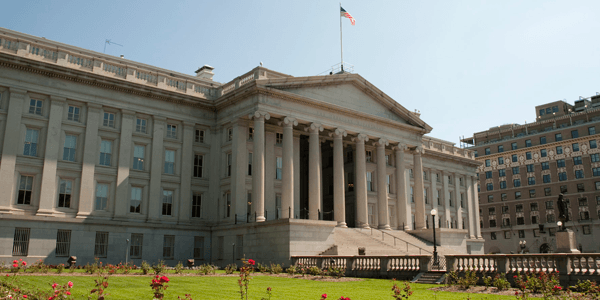 IRS Program to Increase Employee Smartphone Security
One important function of the Treasury Inspector General for Tax Administration (TIGTA) is to review IRS security practices. The IRS is tasked with protecting personal tax information for over 140 million American taxpayers. TIGTA regularly reviews IRS policies to encourage higher levels of security for these tax records.

One of the negotiated agreements between the IRS and its 80,000 employees is that they are permitted to use their personal iPhones. This is called the "bring your own device (BYOD)" plan.

The TIGTA report noted this policy increases the productivity of IRS employees and reduces costs. IRS employees who desire to use this program must register their smartphones with the Service. There is a separate server for these phones. The IRS has implemented procedures for independent review of the activity logs on these BYOD servers.

The TIGTA report made several recommendations to increase security. The IRS employees should have malware and anti-virus protection on their phones. If a phone is lost or stolen, there should be a procedure for deleting data from that phone. The IRS employees should not use a screenshot to record any tax information.

The IRS indicated it will implement the TIGTA-recommended security upgrades.

Editor's Note: The TIGTA report did not discover any data breach incidents, but it urged the IRS to take steps to reduce security risks. The IRS Security Summit regularly studies security for both the IRS systems and taxpayers. Because most taxpayers and tax preparers use electronic filing and all IRS records are on computer servers, it is important to be on guard against fraudsters and hackers. The Security Summit and TIGTA reviews have been successful in reducing the number of security-related incidents each year.


Senate Finance Committee Subpoenas Conservation Easement Documents

On September 16, Senate Finance Committee chair Chuck Grassley (R-IA) and Ranking Member Ron Wyden (D-OR) issued subpoenas to six individuals. The subpoenas requested information about syndicated conservation easement partnerships.

Grassley and Wyden explained that "Conservation easements are a legitimate tax tool to promote land conservation, but some of them in recent years may have allowed some taxpayers to profit from gaming the law – depriving the government of billions in revenue."

The joint statement by Grassley and Wyden continued, "As we have both said all along, conservation easements have very legitimate purposes. We need to protect those purposes and protect the American taxpayer. If a handful of folks can game the system for profit, then we are all left holding the bag. We expect fulsome cooperation with our investigation, and it is unfortunate we have had to resort to compulsory process. Ultimately, when Congress makes an inquiry, it needs to be answered."

The Senate Finance Committee initiated a review of syndicated conservation easements in March of 2019. Document requests were issued after IRS data showed the syndicated conservation easement partnerships claimed $20 billion in charitable deductions from 2010 to 2016. The Senate leaders suggested these deductions were the result of "extravagantly high appraisals."

Andrew Bowman, President of the Land Trust Alliance, supports the Senate Finance Committee review of syndicated conservation easements. He stated, "If the promoters of these deals truly believe they are appropriate, they should have no problem providing information to Congress to substantiate their activities. What are they trying to hide?"

Bowman also supports the Charitable Conservation Easement Program Integrity Act of 2019. This bill limits conservation easement tax deductions to 2.5 times a partner's adjusted basis.

Robert Ramsay is Executive Director of the Partnership for Conservation. He defended the use of syndicated conservation easement partnerships. Ramsay stated, "Conservation easement donations and the associated tax benefit are a crucial tool in the toolbox for private land conservation. We also encourage the Committee to focus on the conservation values that partnerships have permanently protected."


Executor Held Personally Liable for $1.2 Million Tax

In United States v. James Widtfeldt, No. 8:18-cv-00453 (16 Sep 2019), Executor James Widtfeldt was held personally liable for over $1.2 million in estate and gift taxes.

Prior to her death on February 8, 2006, Gusteva Widtfeldt gifted "River Place" and "O'Neill" rental houses in 2004 to James Widtfeldt. James also received additional properties from her estate. The estate did not file an IRS Form 709 Gift Tax Return for the 2004 gifts or an IRS Form 706 Estate Tax Return after Gusteva passed away.

The IRS audited the estate and assessed gift tax, estate tax, penalties and interest. After litigation in Tax Court, the Eighth Circuit affirmed the IRS assessment. Widtfeldt v. Commr., 449 F. App'x 561 (8th Cir. 2012).

The IRS claimed that Widtfeldt received multiple estate properties and was personally liable for over $1.2 million in tax and penalties. If transfer tax is not paid, a lien attaches to recipients for gift tax under Sec. 6324(b) or for estate tax under Sec. 6324(a)(2).

Executor Widtfeldt contended he owned all of the property in 1994 and the IRS claim was not valid. The IRS responded that "claim preclusion" does not permit Widtfeldt to relitigate the events of the case.

The Eighth Circuit noted that the ownership claim by Widtfeldt had been presented to the Tax Court. Because the Tax Court rejected that position and claim preclusion does not permit relitigation of issues, Widtfeldt was personally liable. The U.S. District Court ordered the sale of River Place and Rock Falls Place to cover Widtfeldt's tax liabilities.


Applicable Federal Rate of 1.8% for October -- Rev. Rul. 2019-23; 2019-41 IRB 1 (17 September 2018)

The IRS has announced the Applicable Federal Rate (AFR) for October of 2019. The AFR under Section 7520 for the month of October is 1.8%. The rates for September of 2.2% or August of 2.2% also may be used. The highest AFR is beneficial for charitable deductions of remainder interests. The lowest AFR is best for lead trusts and life estate reserved agreements. With a gift annuity, if the annuitant desires greater tax-free payments the lowest AFR is preferable. During 2019, pooled income funds in existence less than three tax years must use a 2.2% deemed rate of return.

Published September 20, 2019
Previous Articles
Making Correct Quarterly Estimated Tax Payments
September – Excellent Time to Check Your Withholding