How an Attorney Gets Clients Talking About Charitable Giving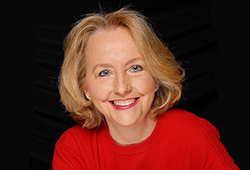 Oklahoma City attorney Gayle Freeman Cook's introduction to the Oklahoma City Community Foundation came many years ago through a client who was a single mom with few relatives. The client was contemplating the future and what would happen to her estate if something were to simultaneously happen to her and her son. The client mentioned the Oklahoma City Community Foundation and Cook reached out to get more information. The meetings and information resulted in her client establishing a charitable bequest in her will.

Cook is a longtime partner with Monnet, Hayes, Bullis, Thompson and Edwards and in her practice she handles estate planning, wills, trusts and durable powers of attorney. In addition to creating documents for what her clients want to accomplish, she sometimes finds herself reviewing or amending already prepared documents after clients have experienced a major life change or event.

Through the years, Cook has found a distinctive and thought-provoking way to bring up charitable giving with her clients. She mentions a scenario and gets the clients thinking about the future and what ifs. Cook asks what they would want to happen to their estate if tragedy were to suddenly strike. They often answer with "I don't know." As an attorney, Cook says she can't point them in a particular direction, but she shares information and lets them know there are options available.

"In my 34 years of helping clients with their estate planning, I have known that for both me and my clients, the Oklahoma City Community Foundation was an invaluable resource," Cook says. "Everyone there is professional and incredibly knowledgeable of the various ways to help a client's dream or passion for a charitable gift become a reality whether during life or at death."

Cook was pleased to learn that the Oklahoma City Community Foundation is an option for clients who have no immediate family and are concerned about having an agent or power of attorney after their death. Cook says the Oklahoma City Community Foundation always goes the extra mile and addresses needs of all kinds in a personal way.

Cook also finds occf.org a great tool for her and her clients. The donor stories especially useful and are often the spark that ignites her clients' desire to leave a legacy gift.

"It is truly rewarding to help clients and when I can lead them to the great resources of the Oklahoma City Community Foundation it is a win for everyone involved," Cook says. "It is truly a privilege any time I have the opportunity to work with all the professionals there and to be a small part of a client's estate planning process."

The Oklahoma City Community Foundation works with attorneys, CPAs, financial planners, trust officers and other professional advisors to help facilitate their clients' charitable giving. Our staff can help you structure the perfect giving plan that will provide the maximum tax advantages and meet your clients' charitable and financial goals. Find out more about the gift and estate planning services we offer here or contact Joe Carter at 405/606-2914.