Financial Planner Finds Avenue to Impact Lives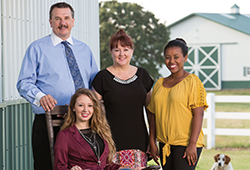 For Brad and Carrie Bertrand, being a part of the financial services industry is a family affair. Since 1998, the couple has owned Bertrand Retirement Solutions, LLC, a financial planning firm in south Oklahoma City, helping clients with estate planning, insurance solutions and retirement planning.
Brad spent 10 years in investment and commercial banking before opening the firm. His wife, Carrie, is a registered investment advisor as well as a former physics and chemistry teacher who is currently a stay-at-home mom and a home school educator.
With a devotion to give back and have a positive impact on lives in their community, the couple established an advised fund at the Oklahoma City Community Foundation in December 2014. They did so with the intention of having their daughters, Elizabeth and Samri, involved in the process. The couple believes that by getting them involved early on that it will have a greater impact on their daughters' philanthropy in the future.
"Carrie and I want our giving to have lasting benefits," Brad explains. "We also want our daughters to be active in giving and supporting worthy causes."
With an advised fund, specifically a legacy fund, like the couple established, the funds are permanent and support donor's charitable interests through grants. Legacy funds offer flexibility for donors to change recipients as they see fit and donors can name successor advisors, therefore enabling the original donor's legacy to continue in perpetuity.
Legacy funds are a great vehicle for families seeking to teach their children about the importance of community involvement and charitable giving. The funds that are established by one generation can continue on through another.
"My wife and I have been aware of the Oklahoma City Community Foundation for a number of years and we knew we wanted to support evangelical organizations in our community," says Brad. "The more we learned about advised funds the more convinced we became that this was the mechanism to use to support Christian causes in perpetuity. Setting up the fund was the perfect channel to accomplish our goals."
The Oklahoma City Community Foundation offers three types of advised funds that are designed to meet your unique needs. Our advised fund options include two permanent endowments that benefit from the performance of our pooled investments and one completely spendable fund. Advised funds can be established with a gift of cash or other assets and you can focus on your giving while we handle all administration and reporting requirements. Learn more about the advised fund options we offer here or contact Joe Carter at 405/606-2914.