A Gift of Stock Creates a Charitable Legacy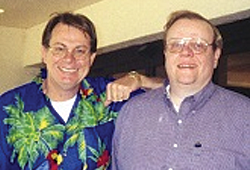 Donors create endowment funds for many different reasons. Terry Simmons' motivation was simple - to help inspire others. Through a gift of stock, Terry established an endowment fund in honor of his longtime mentor to help provide opportunities for others.

A 1966 graduate of U.S. Grant High School in Oklahoma City, Terry received his degree in journalism from the University of Oklahoma in 1970 and soon after headed to Washington, D.C. "to change the world." Without a job, Terry began cleaning office buildings to support himself. One evening he met a business owner whose office he was cleaning. The owner, an investor and businessman named John D. "Chip" Schrott, recognized something special in Terry and offered him a job at his holding company that owned several manufacturing companies. Over the years their friendship grew and Terry's success with the company eventually led him to become part owner of Reel-O-Matic Systems, a manufacturer of reeling and coiling equipment.

In 1988, Terry relocated the business to Oklahoma City and after Chip's death in 2001, he bought the remainder of the company. Grateful to his mentor for the opportunity he provided him, Terry wanted to help inspire others as Chip had inspired him. In 2010, he established the Chip Helping Inspire People (CHIP) Fund at the Oklahoma City Community Foundation through a gift of stock. Through this endowment fund, Terry plans to honor Chip's generous spirit and provide opportunities for others for years to come.

"Chip was a very generous and compassionate man," says Terry. "He was responsible for my success and I created this endowment fund to continue his legacy."

The Oklahoma City Community Foundation can accept a variety of gifts in addition to cash including stocks, bonds, mutual funds, life insurance, retirement plan assets, real estate and mineral interests. For a complete list of the types of charitable gifts we accept and a copy of our gift acceptance policy, click here. For more information contact Joe Carter at 405/606-2914.