A Professional Advisor Helping Clients Leave Legacies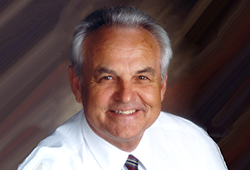 George Ashford has been referring clients to the Oklahoma City Community Foundation since 2005. In that time, we have assisted several in accomplishing their charitable goals.
When asked about why he feels it is important to work with the Oklahoma City Community Foundation, without hesitation George stated: simplicity, professionalism, performance, availability and expertise.
Several of George's clients have established charitable gift annuities that provides a lifetime stream of income while also enabling them to leave a legacy to charitable causes they care about. Another client transferred assets to establish a charitable lead trust, which pays a percentage of the assets' value to the charity of their choice, while also eliminating a tax liability. At the end of the trust term, the remaining assets will be paid back to the client or to their designated heirs.
"I can't praise Joe (Carter) enough," said George. "He has a wealth of information, he is very professional and never pushy. He appreciates the value of the clients and never over steps his bounds. All the employees that I have met and worked with at the foundation are top notch. I would refer any client or professional to the foundation."
A certified financial planner and a chartered life underwriter, George started in the financial services business in 1968 and for the last 30 years he's been in financial and investment planning and he's currently with the Landmark Financial Group in Edmond.
While George considers himself a native Oklahoman, his family didn't move to the state until he was four years old. In 1964, he graduated from Central State College, now known as the University of Central Oklahoma in Edmond. He and his wife, Betty, reside in Edmond and have been married for 25 years. Between them they have five children and 11 grandchildren.
George enjoys working with his church, First Presbyterian Church, in Edmond. He loves to travel and vacation with his children and grandchildren. A big fan of adventure, George skydived for his 70th birthday. He has also zip lined several times including last year in Costa Rica, rafted down through the Grand Canyon and has even parasailed. He's also known to find time for a little golf.
Our staff works closely with George and other professional advisors to help facilitate their clients' charitable giving. Our staff can help you build a plan that will provide your clients maximum tax advantages and meet their charitable and financial goals. Learn more about our gift and estate planning services we offer here or contact Joe Carter at 405/606-2914.